MY VERY FIRST DOG, AN IRISH SETTER (SHARON)
SHERRY'S CHAMPANGE ROUGE CD
D.O.B. 1975
passed

Bubbles was my very first dog. I had grown up with dogs, but they were my parents. I pick Bubbles out from the litter she was born with. She was totally my responsibility. I trained, feed, bathed and played with her. Yes, I even had to pick up her messes in the yard. We did everything together…I even dressed her up and took her trick-or-treating. I showed her first in 4-H and later in AKC obedience trials. She lived to be 14 before crossing the rainbow bridge. She will always have a special place in my heart.
MY VERY FIRST DOG, A TREEING WALKER (MIKE)
'PR' MOLLY WENDTLAND'S (UKC)
D.O.B. 10.16.84
passed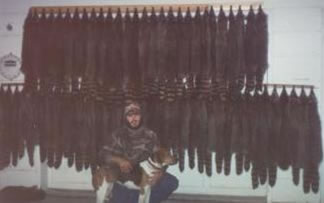 Molly was my first sweet heart. We lived on a dairy farm and she was with me every day. She was trained to coon hunt by Buford, dad's coon hound. Molly trained one fall and Buford passed on. The next year she took off hunting like she had done it a thousand times. I never ran Molly in any trials, but was told to several times. Molly hunted with some top champion dogs and would out hunt them (no joke), one night we ran with the Grand Nite Champion and Molly out hunted him so bad he quit hunting that night. We would get thousands of coons a year. Molly and I were a team, we hunted every night season was open. When Sharon and I got married, the first year I missed three nights of hunting and that was because of too much snow. Molly was a once in a life-time dog. I miss listening to her treeing coon on fall nights.

SUN-GOLD SAMANTHA OF STROLAND CD
D.O.B. 06.29.92
passed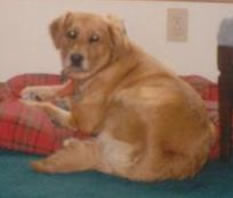 Sam was our first, what more can I say than that. She is the one that started our passion for this wonderful breed. Sam was shown in AKC Obedience trials and earned her CD. Sam was an avid hunter, hunting pheasants and ducks. She was the best dog you could ever want. We had 2 small children and she was wonderful with them. Always keeping an eye on them and when they were older they were buds going every where together.
PRINCESS ABBIEGAIL OF ARROYO CD
6.28.95 ~ 9.27.10
Abbie's parents were Sam & Lance. Abbie is our sons' companion while he was growing up. They did everything together….fishing, hiking, swimming and he even showed her in 4-H. Abbie was shown AKC Obedience trails and also earned her CD.
SUN-GOLD BROOKS OF ARROYO
D.O.B. 1.25.98

Brooks is a puppy from Abbie & Kirby's 2nd litter. This litter was born on Super Bowl Sunday and the Packers were playing; therefore, all the puppies in this litter were named after Packer players. Brooks left us at about 10 months she went to live with a family that had just lost there dog. They had 2 girls that need a new dog desperately, so we parted with brooks. She went to a very loving home, but we still think of her often.